as previously stated i have this little thing for paint. well i would exactly call it little. i have this desire to paint everything paintable. (the drover thinks i'm absolutely crazy- lucky for him the worse part of this project for him was we didn't have a table for a couple days) and the kitchen table has been bothering me for quite some time with its boring ordinary brown wood look. so i had a couple days off last week so i decided to paint it. i wanted something light colored but still old farmhouse looking. the green paint i picked was much brighter than i wanted but i figured i could find some way to tone it down. so heres the step by step process.
mid-painting- i did two coats but i didn't want it to look perfect so i haphazardly painted the second coat not fully covering the wood underneath.
after the it dried overnight i used my new sander (my mothers day present from mr. dog- yes i'm a dog mom- and we got celebrated too) i sanded all the edges of the table and some of the paint off the top- so it would show the wood underneath- i also used a wood burner to burn big gouaches in the top and the chairs. and give it lines that looked like cracks. like i said i wanted it to look old.
the project manger asleep on the job.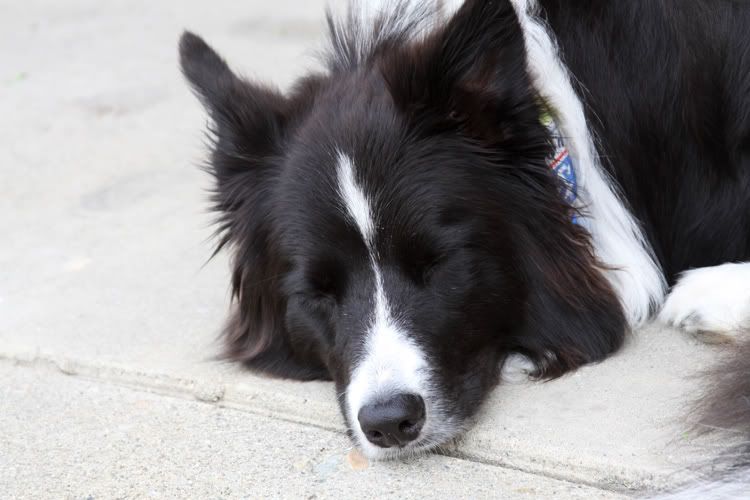 then i stained over the top of all the paint. warning: i learned the hard way with another project to ALWAYS wear gloves when using stain. always.
i use an old rag to rub the stain in so it doesn't get perfect lines. the stain also darkened the paint so it wasn't quite so bright.
after the stain dries i applied a coat of polyurethane to seal the top from water damage and to seal the pealing paint.
and after some time in the sun. the finished project. oh and i made the chalkboard in the background- it compliments the table so nicely but thats for another day.