Here's the cold hard truth. I am not a cook. Sure i can cook spaghetti, a sunday roast or stove top chicken. I'm not exactly sure what is about cooking that drives me away but i have a couple theories. Mostly its just that it is time consuming and then you eat the finished product and there's nothing left to show but leftovers. Ugh- the kitchen. I've vowed one day when i'm home more i will learn to love to cook. maybe. But for now i've been trying to find healthy snacks. The sunflower market has defiantly become my new favorite- and when i found this recipe for strawberry fruit leather i knew i had to try it. And boy is it yummy. Time consuming but yummy. Here's the recipe if anyone wants to give it a try.
Cut the strawberries into quarters or halves.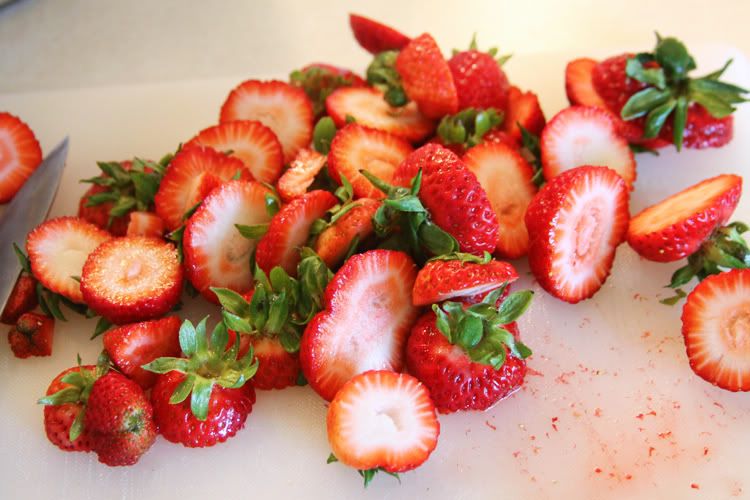 I used between 7-8 cups of freshly cut juicy strawberries.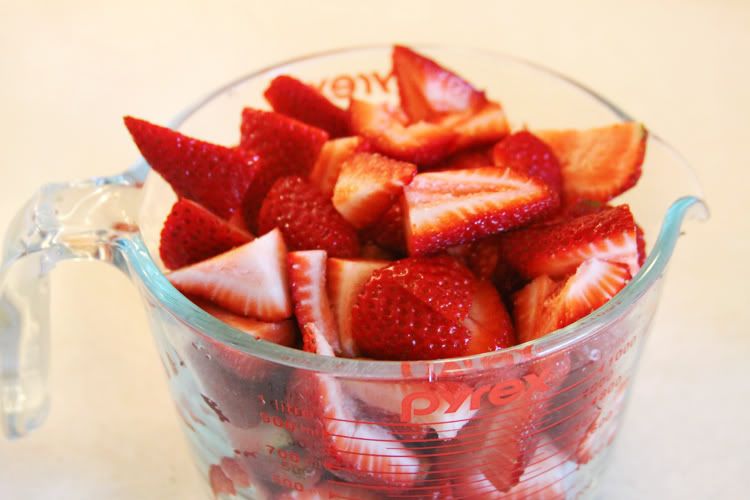 Cook berries on low heat for 10 minutes to bring out the natural sweetness. Add two tablespoons of honey- stir- and continue cooking for 5 minutes.
(ok this are not part of the fruit leather but i thought i'd show mr. dogs healthy treat of choice- low fat vanilla yogurt/applesauce mix and freeze- not only a treat but this keeps him busy for at least 20 minutes)
Place berries into a blender and mix. You want the mixture to be the consistency of a runny shake (yes that is best analogy i've got)
Lay parchment paper on a cooking sheet and pour berries and spread thin.
Cook on 150 degrees for 6-8 hours. (yes it takes that long)
Cut into strips with kitchen shears and roll. T
hey will peal away from the parchment paper with ease. Just like a real fruit roll up.